We offer a customised experience with the ability to integrate our service based on your requirements
We offer front to end onboarding support with the aim of integrating our service within your environment.
Our objective is to ensure efficient implementation, operational stability and flexibility of service over time.
Client onboarding overview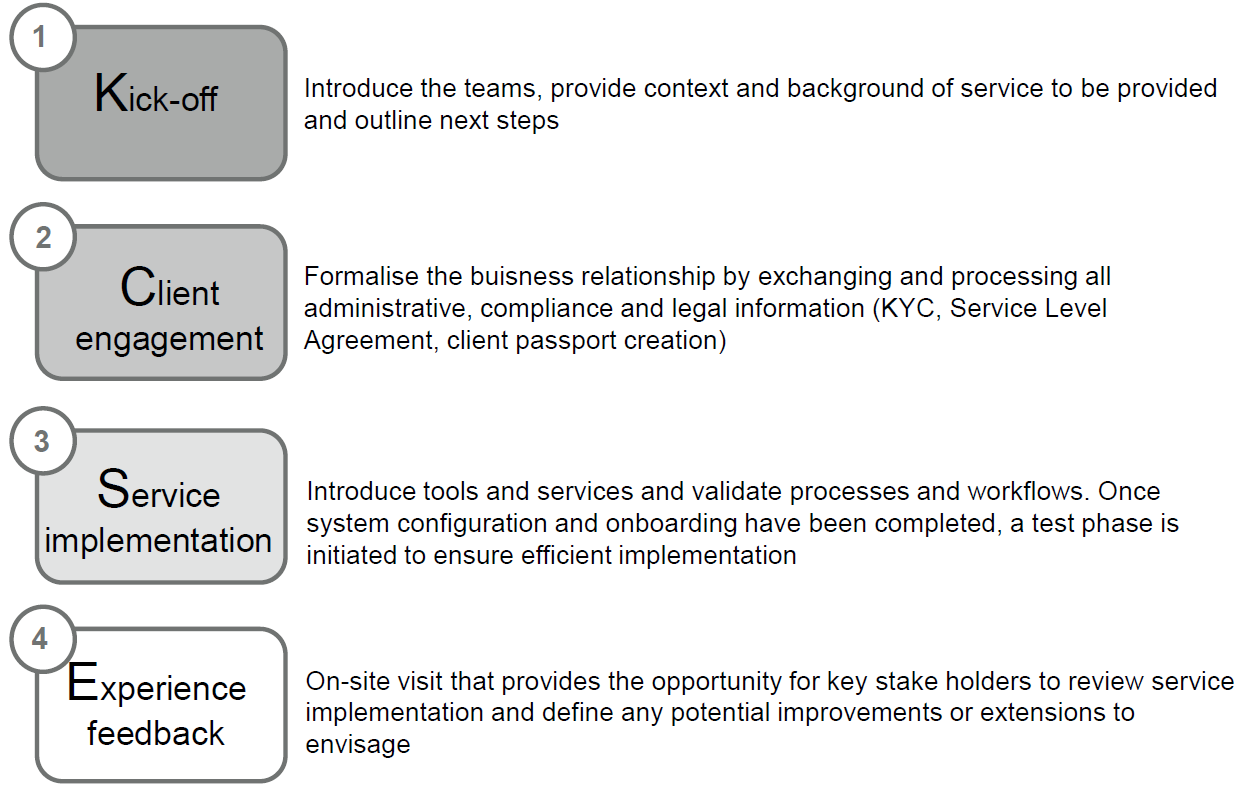 What can you expect from us?
Best Execution reports
We provide detailed reports to comply with best selection and best execution requirements.
Our trade execution policy is based on a standardized process for selecting financial intermediaries and counterparties, a process for selecting venues and a process for analyzing and selecting reporting systems to attain best execution across the entirety of the trade execution chain.    
Custom dash boards for activity monitoring
We design dashboards to fully your operational requirements (activity statistics, trading volume splits, frequency of publication…) and provide you with a 360 view
Provide support to meet regulatory requirements
In the face of an increasingly complex, risky and demanding environment we strive to support you by providing a robust and complete reporting framework
MIFID 2
Market abuse monitoring
Established framework to ensure market abuse monitoring and process alerts on a daily basis
GDPR
Personal data repositary

Data monitoring by the Data Protection Officer (DPO) with responsibility for data conservation
Anti-corruption law (Sapin 2)
On an annual basis corruption risk mapping is undertaken and our control framework is adapted accordingly
Counterparty evaluation
We carry out a periodic evaluation of intermediaries across all market segments that have been selected to execute your orders. Our analysis is based on 3 factors:
Defining criteria for evaluating intermediaries for order execution

Monitoring execution quality on a counterparty by counterparty basis

Periodic evaluation of intermediaries conducted through a broker review committee
Market color and context 
Our objective is to provide our clients with access to actionable information and maintain a constant dialogue between us. We publish daily notes and offer privileged access to our traders to provide you with market color.
Research administration
We offer a research administration service to support you every step of the way:
Unbundling research services from execution for trades intermediated by us on your behalf

Centralization

Administration and payment of research from a segregated account (Research Payment Account)

Budget monitoring and detailed report generation.